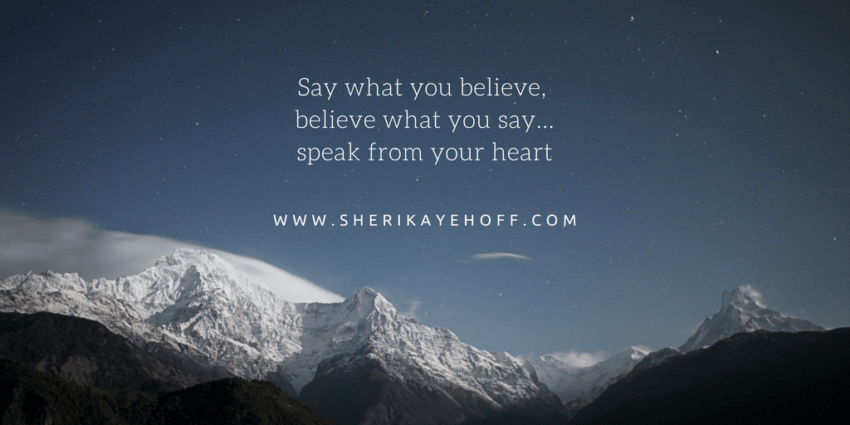 How to Shift this Marketing Dilemma for Heart Centered Business Owners.
Do you sometimes struggle with finding the right words to communicate who you truly are and how you can help people in your marketing messages?
I have been writing sales pages for ten years and I have also hired people at times to help with the copywriting on the sales pages.  When I write, I don't want anything that doesn't sound like me. I also can't stand unrealistic promises. You probably feel the same way. You want to be authentic and have people respond to your authenticity.
Here are some beliefs that I bring to my own authenticity when it comes to my marketing.
Empowering beliefs I embrace every day of my life:
You can have everyday happiness.
You are an incredible, deliberate creator.
Healing is possible and available to everyone, everywhere.
 Mindset is a powerful predictor of success.
Even though I am very practical, I am also a huge believer in the power of human potential. When I say, you are limitless, I truly, genuinely believe it and see it every day in my life and my coaching practice.
I have:
Experienced people doing things they never thought they could do.
Seen people find creativity that they didn't know existed.
Witnessed clients face almost impossible situations and then thrive.
Happily been privileged to be part of people reaching for and achieving their biggest goals.
This is real and genuine. I get so excited when I see growth. When I bring these results and observations up in my marketing message, they come from my heart.
According to Mark Silver from The Heart of Business, Inc "Marketing's job is not attraction, but safety, to help soothe the worries and skepticism that naturally arises, so that hearts can connect."
The best thing a business owner can do is write from the heart to a specific ideal client. Answering the questions, "How can I truly help them? What is the problem they want to be solved?"
The marketing dilemma is: How to best communicate the genuine promise in your marketing? I am not the only one feeling this way. One of my Facebook friends said that she asked her tribe (biz owners) what is their biggest time commitment/stealer? She received an email from a person who was so frustrated with all the marketing emails she received with people saying and promising the same things.
Now the most interesting thing isn't necessarily this feedback but it was the reaction of other biz owners to the feedback. Some replied, yes marketers need a wake-up call. Others replied with Doesn't this person know she can unsubscribe? and others responded with Something else must be going on for her.  And others said It must be resistance to her own marketing.
All these expressions are part of the truth. Overall, the comments demonstrate an often-shaky relationship between biz owners and their own marketing efforts. With my new biz clients, I have heard things like, "I hate marketing." "I wish I didn't have to market at all."  Most are somewhere in the middle with comments like, "I wish I was better at marketing." "I wish I had more time for marketing." Very rarely do I hear, "I love marketing. My favorite thing is creating a sales page."
With my own marketing, I decided to approach it the same way I do everything in life, which is to ask, "How can I make this fun?"  I love to learn and I love a challenge. Just asking, "How can I make this fun?" before starting a project, brings more light and air to what I am doing.
If you have your own dilemma about marketing, notice what makes you respond positively. Most of us don't expect nor would we respond to marketing language that says, "Here is a perfectly okay service which you will find slightly above average". We all want superior performance for everything. When you think about it, how can every car have superior performance? Yet that is used a lot in car advertising. How about your salon owner, "Wouldn't you love your hair styled with average products and average skill?"
My test of my own marketing is to make sure that my heart is in it and that I truly believe what I say. I also keep a specific client in mind (a favorite client) and write my marketing like I am writing to that person and solving her problem, helping her get the results she wants. I imagine the excitement she will have when she achieves what she wants. I feel like I learn more about what this ideal client want every day. Each time, I have a new insight, I record it in an App I use for notes (Google Keep).
According to Michelle PW, author of Love Based Copywriting books (affiliate), "One of the fastest ways to transform your web site and promotional materials into a client magnet is to add your personality"
There will always be critics. I sometimes hear people say,  "Of course things work out for other people. They have more advantages, better relationships, more money, more education… etc."  What I find most often is that people who seem like they have it together and things are always working out for them, actually have surmounted many obstacles and challenges. Their focus on growing and learning from everything creates success.
Excuses abound. I hear people say to me sometimes, "you have great relationships with people, I don't, so how can I have success in business?"   I cultivated those relationships. They didn't happen by accident.  I also experienced real struggle in my life. My brother died when I was a kid, I had a five-year relationship when I was a young woman and he died. I nearly went bankrupt twice in my twenties. And I had a near death experience where I was unconscious for twelve hours and in ICU for a week. I
If I can have a positive mindset, be successful, and healthy; anyone can do it. It takes intention, finding the right support, and inspired actions steps, but you can do whatever is absolutely important to you.
If you liked this article How to Shift this Marketing Dilemma for Heart Centered Business Owners., you will love this article 23 Ways to Monetize Your Newsletter.
Sheri Kaye Hoff
Coach, Trainer, and Author, Sheri Kaye Hoff, is a Business Coach known for inspiring massive action and a catalyst for personal and business growth, joy, and profits in a way that is fun, relaxing, and fulfilling, Sheri inspires people to do the work they love and make more money. Sheri helps business owners and professionals to relax into success. She uses both spiritual and practical techniques to obliterate blocks and create dramatic change. She is a business, leadership, happiness, and inner game expert. She has overcome nearly dying, and the loss of her brother at an early age. She has made it her life mission to discover the keys to happiness and success and then share them with her clients and community. Learn More About Sheri
How to Shift this Marketing Dilemma for Heart Centered Business Owners