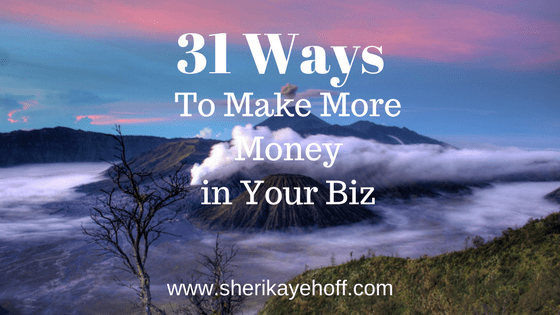 31 Ways to Make More Money in Your Business
Almost every business owner wants to know how to make more money.
Cash flow is king.  My own surveys that I took over a two year period show that people are primarily interested in two things: they want to do work that inspires them, and they want to be relaxed about money issues. Can the two go together? Absolutely. I personally believe that the days are quickly fading, if not gone completely, where people spend their lives working at jobs that are uninspiring or jobs that they dislike.
The key is to combine what you love and the ability to make a comfortable living or even create a luxurious lifestyle. For the sake of this article, let's say you have figured out what you love to do and you are doing it, but you simply need to make more money. Maybe you are in the start-up stage or maybe you have been plugging away for a few years but barely making enough to keep your biz and your life afloat.
Here are 31 ways to bring in more cash, clients, and customers to your business.
To make this list, the method had to be fast. Many of the things that bring in money for a business are long-range projects and plans. For example, most people won't write a book in a day and have it ready to sell. However, writing a book is a good credibility and revenue stream expanding plan, in the long run.
These ideas I am sharing today take a few minutes, to hours, to maybe a couple of days to implement.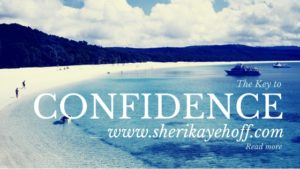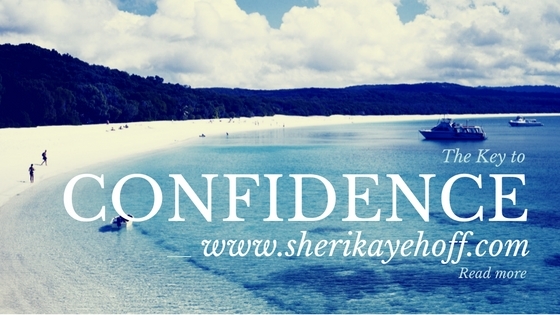 Today, I am speaking to you from the standpoint of you need "X" amount of money to pay the bills this month, take that trip, take a special training, or invest in new software, materials, etc. Bottom line, you are looking for a cash infusion but also growth which means new clients and deeper relationships with current clients. Some of these techniques may seem obscure. Others, you will say, "Of course, I know that. I just needed to be reminded."
Note: This post contains affiliate links, which means that if you click on one of the product links, I may receive a commission. I only recommend what I believe in and have tried.
Here you go:
Take care of you. There is only one you on this planet. No matter what you are putting into your business, take care of your health. Eat healthy, exercise, and have regular check-ups at the doctor and dentist. Gabby Bernstein says, "Sleep is a spiritual exercise."  This is a quote from her inspirational deck of cards, Miracles Now: Inspirational Affirmations and Life-Changing Tools. Self-care may seem like a no-brainer, but many business owners put themselves last and run on no sleep.  You can even expand your self-care to regular massages, chiropractic, and acupuncture. One of my no-compromise self-care elements in my life is travel. I love to travel and usually go somewhere every couple of months. When you take care of yourself, you will be more productive and think more clearly.
Practice a daily success ritual. Do this first every day. Your success ritual will ensure that you start your day with a powerful mindset. The main part of my ritual is journaling. I have journaled just about every morning for over a decade. I start with an appreciation/gratitude list. Then I move on to visualizing and manifesting. What is your daily success ritual?
Be happy. Happiness does not depend on outside factors. It is an inside job. When you practice happiness, you are like a magnet for good things. People are attracted to high energy, happy people.
Create a daily plan including visualizing your success. This plan could be as simple as a list of your six most important things to do, if you don't accomplish something, it goes on the next day's list and so on. Ivy Lee taught Charles Schwab this list technique over 100 years ago.  Mary Kay Ash used this technique and passed it on to her entire company and all of her consultants. If you want to be more efficient, it's a great method to try.
Get better at selling. I have learned that everyone can improve at sales. Selling is a learned skill and an art. If you have salespeople, make sure they have regular training. Take a course. Read articles. Practice. Read The Greatest Salesman in the World by Og Mandino. This is probably the most inspirational book I have ever read that gives you the right perspective on the selling process and living life to the fullest, too. It's also very short.
Increase your resilience. Some people naturally have more resilience to hearing the word "no", but no one loves hearing "no". A strong dislike of the word "no" could be related to a fear of rejection or fear of judgment.  You can release this fear through examining when you first felt this fear in your life. (Often this might be around ten years old). If you pinpoint one of the first times you felt rejection or judgment, you can release it by letting yourself fully feel the emotion and then letting it go. Picture the emotion/belief lifting off you in a gray mist that disappears into the sky. Notice if you feel lighter.  To gain a deeper understanding of the way emotions impact your life, read Emotional Intelligence: Why It Can Matter More Than IQ by Daniel Goleman.
The next few tips move away from your inner-game and focus on the purely practical. Starting with emailing your list about an eCourse or product that sold well for you, but you haven't offered it for a while.
Create a challenge that is free and promote it on your blog, social media, and your newsletter. A 7 day, 14-day, 21-day, 30-day, or a 90 -day challenge are time frames that work well. You will have multiple touchpoints to offer products and services throughout your challenge.  Use your niche. Be sure that you are an expert in this area so you don't have to do a lot of research to put it together. You could run a private facebook group. Hold it on your blog or both. Plan a daily post, interaction, an activity that people will do, and then a few strategic deeper content pieces. These could be conference calls, video, audio, or something else.
Create a challenge that is a paid offering using the same principles but you charge people to sign up. Paid offerings work better if you already have an established email list of a few thousand people.
Create a product bundle. Bundle products and services together and offer at a special price. Email your list.
Add a product offering at the end of your free-gift sign up that is an extension of your gift. For example, my Mindset Challenge leads into the Master Your Biz Mindset eCourse or the Spirit of Success eCourse. The course is offered at the end of the challenge.
Add a product offering on the thank you page of your free-gift sign up that is slightly different than your gift.
Add a one on one service to a workshop. For example, at the end of Mindset Mastery, I offer my Breakthrough Intensive
Sell more to current customers. Go through your database and study what your people are buying. If someone has purchased several eCourses or products, it is time to offer your larger product, mastermind, or one on one exclusive package.
Offer referral gifts to customers. Your customers love you already. When you offer gift cards or cash for referrals, you add an incentive. Be sure to tell your customers how you like to be referred. You can give them guidelines and some language. Otherwise, you could end up getting a referral that is intimidating. Let's say your customer refers you to someone and says that you are the greatest thing ever to happen on earth… that could be intimidating. When you explain your referral program to customers, encourage them to give some specific examples of growth and/or great customer service that they experienced as a result of buying from or working with you.
Create an affiliate program. With an affiliate program, people will be selling for you and the affiliate software does the tracking for you. This way you can reach new customers and clients and your affiliate has a win, too.
Follow up on invoicing. Check any unpaid invoices or see if you need to send out invoices. If you work in an industry where people pay ahead like coaching, good for you. You will avoid having to track down anyone for payment. If you sign up a client who is starting on the `15th of the month, but it is the 3rd of the month, send the invoice. I let my new clients know that their coaching spot is reserved when payment is received.
Accept payments over the phone. If you have phone strategy sessions, make sure you can accept payment over the phone. Many times, clients will ask me if they can just pay me while we are on the phone together. It saves them the step later, too.
Avoid some invoicing by setting up recurring payment plans. Most merchant accounts offer recurring payments. This way when you send the pay link or include it on your sales page, the client signs up for maybe a 6-month payment plan, they are auto-billed on their credit card and you don't have to invoice.
Follow up with people who are close to yes. This is crucial. You held the strategy session, you can feel the prospect is on board, but they haven't said yes. Get permission to follow up. "How about we touch base tomorrow?" Then get it on the calendars. Be sure to follow up. The first 24 hours are the most important. However, even if it has been a few weeks without follow up, still follow up. If you find yourself using similar language each time, create a template that you can use over and over adjusting slightly for each person.
Tweet your book or product link. Don't just say- buy my book. Use a benefit-oriented post. If you have a book, do you have a separate product that is an autographed copy of your book?
Create a Pinterest post with a link to a blog about your product.
Write a blog article and include an affiliate link. You can easily find affiliate products. The best place to start is with products you already love and use. I make affiliate income regularly from instantteleseminar. I became an affiliate because I love and use the service. If someone asks me to help promote their product or service, I find out if they have an affiliate program.
Write a blog article and include a call to action for purchasing your product. Be sure to share your blog link all across social media.
Sell ads on your blog. If you have traffic, chances are that someone would love to take advantage of that and pay you to advertise. Monetize your blog.
Sell sponsorships for your blog. Capitalize on your traffic and offer a sponsorship for your blog.
Raise your prices. Even a small increase can make a difference in your bottom line.
Feature a product in your email signature. It is easy to forget that people read these, but they do.
Participate in a trade show where you get leads and sell from your booth. Be clear about the result you want. Get feedback from people who have done the show previously.
If you sell your product line at retail in person or online, consider selling wholesale to boutiques who want to carry your product.
Add a product that makes sense. If you are a personal trainer, it makes sense that you sell exercise bands and supplements.
A Bonus Tip: Partner with other businesses where you can feature your products and services in trade for you doing the same thing. You can join JV groups on facebook to find matches.
A Bonus Tip: Have a side gig. You can take advantage of Upworks or Fiverr and do side gigs to supplement your business. For instance, maybe you are a coach, but you do a side gig of social media management to pay the bills. When I first started my company ten years ago, my side gig was writing curriculum for college courses and teaching part-time at a college. You could do other side gigs like driving for Uber or Lyft. Or writing articles. There are many ways to bring in extra cash while you are starting or growing a business.
The most important thing is that you don't let a cash flow crisis zap your energy and undermine your confidence.
Know that you will make it through. There is always more than one way and this list of 31 Ways to Make More Money in Your Business helps you step away from tunnel vision. I meet coaches and consultants and I ask how their money comes into their businesses. They most often respond with a service package. When they realize that there are many ways to grow revenue streams, it's usually a huge relief. I know a few close business friends who say they aren't comfortable unless they have at least six revenue streams.
If you liked this article, you will love the free Get Your Results 50-minute coaching session
(Note: Updated July 18, 2018)
In Happiness,
Sheri
Sheri Kaye Hoff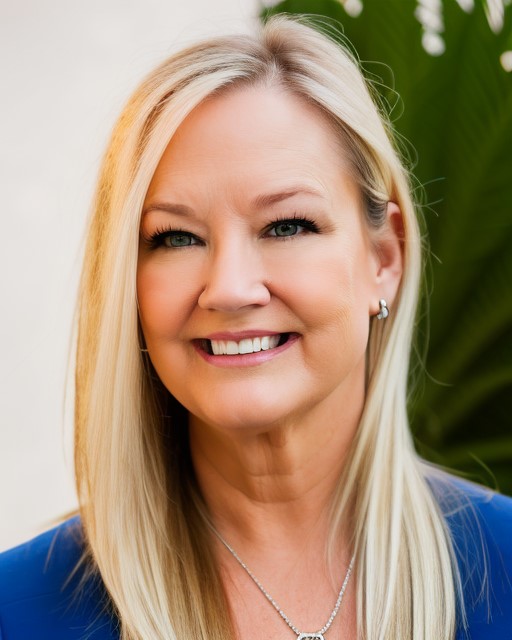 Coach, Trainer, and Author, Sheri Kaye Hoff, is a Business and Life Coach known for inspiring massive action and a catalyst for personal and business growth, joy, and profits in a way that is fun, relaxing, and fulfilling, Sheri inspires people to the do work they love and make more money. Sheri helps business owners and professionals to relax into success. She uses both spiritual and practical techniques to obliterate blocks and create dramatic change. She is a business, leadership, happiness, and inner game expert. She has overcome nearly dying, and the loss of her brother at an early age. She has made it her life mission to discover the keys to happiness and success and then share them with her clients and community. Learn more about Sheri.