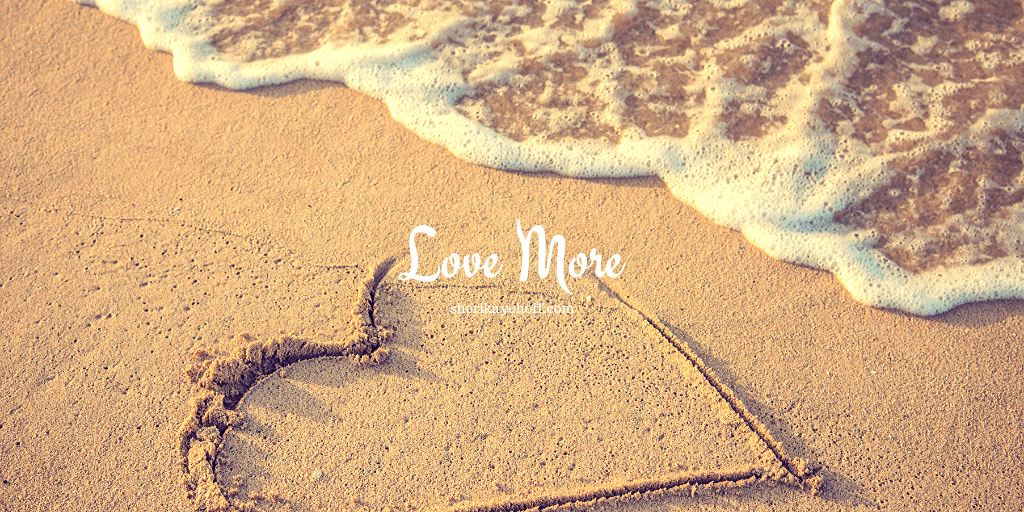 Love More, Practice Unconditional Love
Almost every situation (at work, at home) could be improved by adding more love. I don't mean romantic love between partners. I am talking about a deep love; unconditional love, as a verb, an act, instead of a feeling.
Unconditional love means love without condition. You love to be loving and aren't loving to get something. You love no matter what.  Unconditional love for children is a great example. We love our children even when they are behaving badly. Love is consistent. Lead your life with love. Love for those around and practice self- love, too.
You might be thinking, it is hard to feel loving when you are angry, under pressure, upset, or things are going wrong.  Here is where you look at love as more than a feeling. You decide it is your desired state of being.  Act with love and the feeling will follow it. Just the energy of you being in the state of unconditional love creates a positive impact on the people around you. Love is the strongest energy on the planet.
Your choices become different when they are made from love. If you allow yourself to see through the eyes of love, you open to more possibilities.
If you think practicing love is a weak approach, think about this, people have no defense against you if you have a heart full of love. Dr. Martin Luther King Jr. was an advocate for unconditional love. Another example of the powerful nature of love is Gandhi's civil disobedience in India and his whole movement. His movement turned into a global movement of peace, love, and non-violence. Mother Theresa practiced unconditional love.
You, too. can practice unconditional love as part of your daily practice. When you walk into a room full of love for life and everyone in it, people respond.  It is incredible power for the highest good.
When you bring love to a moment, you create more freedom, peace, and a high-trust environment. People are free to express their innate talents and creativity.
Concentrate on bringing love to every possible situation in your life and note the changes that occur as a result.
Implementing unconditional love in your work and business helps people to rise beyond any expectations. Performance increases exponentially and sometimes inexplicably. Almost everyone is on board and feels like they are part of something larger than themselves. You can see this in organizations, families, sports teams, businesses, and more.  Synergistic results unfold.
Unconditional Love in Practice:
Develop high self-esteem and foster high self-esteem in the people around you. If you have low self-esteem, your actions can be driven by ego, competition, fear, questionable motives, and a desire to make other people appear less than. Build your own high levels of self-esteem, so you can act from confidence and see a big picture that isn't clouded with self-doubt. Your self-esteem grows when you forgive yourself and others for their mistakes. Creating an environment of continuous learning also boosts self-esteem. Grow your skills. Practicing kindness towards yourself and others helps, too. Release the very human tendency to compare yourself to others. Be you and let others be themselves, too.
Cultivate gratitude for other people and their contributions. Be grateful and thankful for everything you have. Be grateful for your people and their contributions. Write a love letter to yourself. Write thank-you notes or emails to people. Say thank you right away. Recognize people for their accomplishments and contributions. Be grateful for other people's mistakes, too. Mistakes provide learning and a chance to improve.
See the uniqueness of each person. See each person as an individual. Each person is special and worthy of appreciation. Each person has different skills, needs, desires, personalities and more. Avoid the tendency to generalize- as in "you people" or "everyone keeps" or "I just wish the team would."  If one person makes a mistake, don't send an email to the whole team or company. Address this one issue with this one person. There is not a very much worse feeling than doing a great job and getting a critical email because the owner or manager is too afraid to speak directly to the person.
Practice compassion. Honor your own journey and honor other people's journeys. Acknowledge suffering. Let people know you care. Offer help and understanding.
Respond Instead of React. In each moment, you have a choice about the action you take. Take a pause and choose a response instead of a gut reaction. Yes, often you can trust your gut, but give it some time. Sometimes your gut reaction is really a trigger and you will do or say something that you wish you had not. Responding instead of reacting is rooted in emotional intelligence. Practice pausing and choosing. A careful response contributes to trust and is much more loving.
Practicing unconditional love creates loyalty, higher levels of productivity, increased happiness, increased creativity, more joy, and more abundance.
Journal prompt:
Leading with love means to me…
Make a Difference
Part of choosing unconditional love or leading with love is making a difference. What is important to you; who do you want to reach and help? Where is your impact? Where is your circle of influence?
Decide where you are going to make a difference.  Maybe your impact will be in your neighborhood, your community, your city, or even the globe. If you have a business you might call this discovering your niche.
Choose how you are going to make a difference. For instance, I consciously make the choice in my life that everyone I work with gets 100% of me.  I want to make an impact in the quality of life on a global basis. I do this through the books that I have written, my audios, and my programs. When I wrote my first book, I never imagined that I would write multiple books and I did not imagine that I would have a global reach. Now a global impact is part of my annual plans. I feel so blessed to be able to help and support people. Every time I hear about one heart being inspired, I feel encouraged to keep going. When I feel tired at times, an email will come in sharing a story and I get energized again. Each day is an opportunity to recommit.
You have the opportunity to make a difference no matter what the circumstances are in your life.
Remember that you are not alone even if you work in a cubicle or even if you work at your computer all day.  If you are a writer and you only talk to your publisher once a month or even less than that, you are still not alone, you still need other people. If you are a writer and you publish books, you need people to buy your books, right? So whether you recognize it or not, you are reaching people, through the words that you write and you are touching a part of their soul. Even though you might be thinking there is distance between me and that person, you are still connecting.
Reach out and give generously of your time and your resources, make it a point to lift other people up. If there is a member on your team struggling, grab that person and lift them up. Help them along. Stop and help someone with their groceries. You get the idea. So start. If you are already reaching out- expand.
Once you begin reaching out, then expanding your reach, choose meaningful impact instead of dabbling around. It's much more effective for you to be heavily involved in one or two or three or even four things than to try to do 50 things. Decide that you are going to make a meaningful difference.
Journal prompt:
What will a meaningful difference look like for me?
Be open to receiving.
One often overlooked part of reaching out and making a difference is the ability to receive as well give. Imagine that you are reaching out and you are helping other people, you are lifting people up, you are making a difference, then, let people give to you.
How do you receive the good that is coming to you? Do you close yourself off from it? Do you ask people for help when you need it or do you sit there and wonder why no one is helping you or do you refuse help?
When you refuse help, you are not allowing other people to have the pleasure of giving. You are, in effect, taking away one of life's great pleasures from them.
I would like to challenge you in this area of receiving. This week, practice asking for help or practice receiving an unexpected gift. If someone gives you something unexpected, just say thank you. Gracefully receive those unexpected gifts.
Use affirmations like- I am open to receive. My receiving channels are wide open. I am open to all my good coming to me.
When you are in the reaching out phase, you are in a circle of life, you are giving, yet you are also receiving. If you can imagine light circulating around the planet, going out to other people and coming back to you, and you are not disrupting that light, you are part of that glow, the abundant flow of the universe.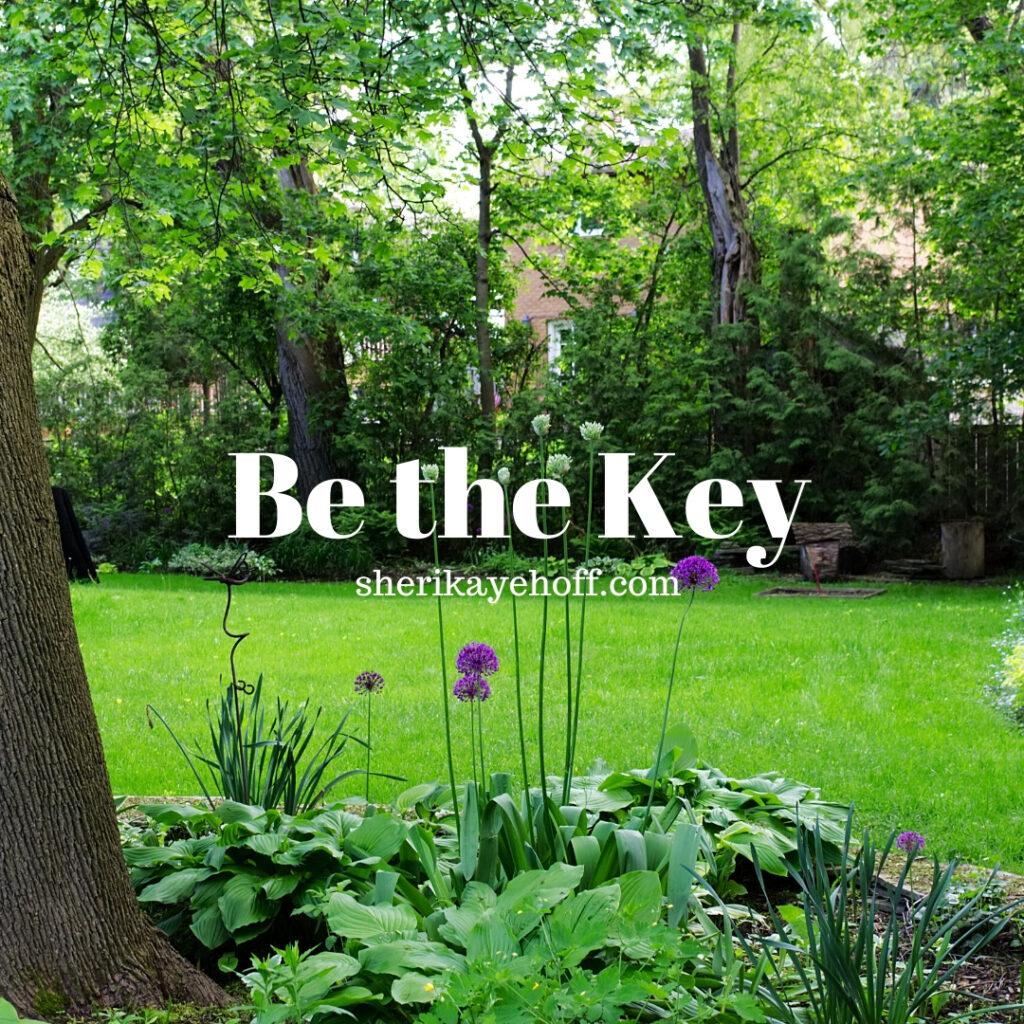 Personal Story By Connie Nylund
"Service is the rent we pay for being.  It is the very purpose of life, and not something you do in your spare time."  –Marian Wright Edelman, a children's activist.
One of the best things we can do for our health is to learn to be more caring and compassionate.  – says Stephen Post, director of the Center for Medical Humanities, Compassionate Care and Bioethics, at Stony Brook University in New York.  "Happiness is a byproduct of living generously."  He referenced a study in the journal SCIENCE, 2008, where a group of 600 men and women participated to find out how personal spending was related to happiness.  Personal spending was found to be unrelated to happiness.  On the other hand, pro-social spending, on gifts to others and donations to charities, was directly related to happiness.
There seems to be a very enthusiastic nod of approval for people who volunteer. 
To personalize the value of volunteering, John Nylund, Sheri's father, has provided some examples from his 31-year career in corrections and his 12 years of retirement.  As the Education Director at a correctional facility, John worked with a staff complement of 4 classroom teachers with basic ed., 1 driver's ed. and phys ed. instructor, 1 floating sub, and 1 science teacher. 
John frequently filled in as needed in the classroom, on wilderness treks, and supervising other activities.  His ethic was to do what needed to be done.  He went above and beyond and made time to personally talk with the boys and encourage them.  John went fishing, camping, canoeing, hiking, rock climbing, cross country and downhill skiing, year-round.  He packed supplies, cooked, paddled, swam, brought youth to the doctor and dentist, chased runaways, defended, restrained, consoled, joked, played baseball, you name it. 
Over the years, John has found many success stories among the graduates.  Some went home to attend public school, some graduated at camp and went to college or the military.  Some went to prestigious universities.  Some became policemen, firemen, social workers, construction workers, businessmen.  Some got married and had families.  Some came to live by faith.  One young man John remembers became a counselor in anger management for victims and perpetrators.  
After retiring, John started mentoring youth at church.  He took the boys hunting, target shooting, and fishing, and they read the Bible together and did their confirmation lessons. Over the years some of the boys and their parents have updated John on what they are doing.  Education.  Careers.  Family life.  The cycle continues.  Now John is still active in his church and still praying for young men, for their faith to unfold and lead them to a desire to serve God by serving others.
Connie Nylund
English Teacher and Writer
*****
If you haven't realized yet, John is my father, and Connie is my mom. I have always thought that my father was the busiest retired person I had ever known. You would think that after all of those years of service making a difference in troubled youths' lives during his career, he would say, "I have done enough", yet he still serves out of the joy and passion he has in his heart.
An abundant life is a life where love is a gift and not a reward, knowing that you are able to trust yourself and others. Laura Eberstadt
Leading with love creates a happier, more successful, and abundant life.
If you liked this, you will love my Inspire Mastermind
Sheri Kaye Hoff
sherikayehoff.com
Coach, Trainer, and Author, Sheri Kaye Hoff, is a Business Coach known for inspiring massive action and a catalyst for personal and business growth, joy, and profits in a way that is fun, relaxing, and fulfilling, Sheri inspires people to do the work they love and make more money. Sheri offers business and mindset coaching for business owners and professionals ( including life coaches, health coaches, creatives, personal coaches, spiritual entrepreneurs, consultants, and more) to relax into success. She uses both spiritual and practical techniques to obliterate blocks and create dramatic change. She is a business, leadership, happiness, and mindset expert. She has overcome nearly dying, and the loss of her brother at an early age. She has made it her life mission to discover the keys to happiness and success and then share them with her clients and community. Learn More About Sheri
The Secret Sauce for Success, Abundance, and Living a Happy Life