Find out: Why professionals have and or experience imposter syndrome. What imposter syndrome looks like, feels like, sounds like. Most common ways it shows up. Imposter syndrome identifiers and some key tools with my guest Christine Daspro with 30 years experience on Wall Street and 15 years of mentoring and coaching professionals. Listen Here
Christine Daspro brings over thirty years of experience in the corporate, non-profit sectors and is currently the CEO of Threads of Leadership.
Threads of Leadership focuses on developing individual leaders through life-long learning, creating valuable connections, and curating impact through how they lead.
Before starting Threads of Leadership, Christine worked for 10 years at Women'sVision Foundation as Vice President of programming, membership, and fundraising and 30 years as Vice President at Merrill Lynch in various roles. www.threadsofleadership.com
Show Notes:
01:42
What is imposter syndrome? And how do you know when it is operating in your life?
05:02
Being reactive vs proactive
05:56
Recognizing strengths and things that are not your strengths
08:59
Assessment for imposter syndrome
10:04
Being truthful with yourself
16:15
Showing up the way you want to show up and be in your life. Lessons from 30 years on Wall Street.
20:50
"I think we have to celebrate who we are as individuals. And we have to celebrate the journey that we've been on and the one that we're going towards." Christine Daspro
Christine's Freebie: 30 minute coaching session. www.threadsofleadership.com
The Sheri Kaye Hoff Show for Living Joyfully in your Biz and Life. Create More Freedom, Happiness, and Success. Sheri is a business coach, consultant, mindset mastery expert, and personal development expert. She is a best-selling author of transformational books and a near-death survivor. She is a noted radio show guest, keynote speaker, and workshop leader. Sheri uses a coaching approach that is action-oriented, intuitive, inspiring, and energy-boosting. She lives in beautiful Colorado and is married (for over 25 years) with three children, three step-children, and 2 grandchildren. Sheri loves inspiring happiness, family dinners, dancing, football, golf, wine, the beach, and the mountains. You can also listen to the podcast by saying "Alexa, play the Sheri Kaye Hoff Show"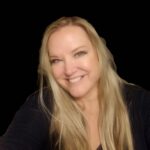 Sheri Kaye Hoff, is a Transformational Business Coach known for inspiring, intuition, vision, and massive action, and being a catalyst for personal and business growth, joy, and profits in a way that is fun, relaxing, and fulfilling. She uses both spiritual and practical techniques to obliterate blocks and create transformational change. Sheri is a business, leadership, happiness, and inner game expert. She has overcome nearly dying and has made it her life mission to share the keys to happiness and success. Learn More About Sheri
Recent Posts
Overcoming Imposter Syndrome with Guest Christine Daspro