If you have ever been stuck in your marketing efforts, this episode on Creative Marketing with expert Meg Fenn will give you that spark of new ideas and fresh approaches. I met Meg in person when I was in England in 2016. I was immediately drawn in with her kindness and high energy. You will love this conversation.
Meg Fenn is a creative designer and marketer. She's a champion of creativity and helps people to be creative and stay creative in order to problem-solve and innovate. She is skilled in graphic and web design, marketing, and SEO strategy and implementation. After running her own business in one form or another since 2003, she is currently self-employed, a company associate with consultancy always possible, and is also a community engagement leader, mentor, and workshop facilitator. Learn more about Meg here https://www.linkedin.com/in/megfenn/
Creativity is the spirit of life.

Meg Fenn
Creative Marketing Episode Timeline:
01:44
How to balance family and business for more happiness
04:55
Overcoming imposter syndrome. Deciding what is most useful and helpful in creative marketing without overwhelming marketing analytics. Keeping it visual and actionable.
08:28
Giving back, mentoring, growing, relationship building, and overcoming barriers with business and marketing. Creating quick wins.
11:35
Strategy is simple and is just identifying your target audience, identifying what your offer is, and then working out how you're going to communicate
17:49
Getting over FOMO and the feeling of competition. Deciding on your brand and what you are all about. Creating your social media approach for creative marketing and a happy business.
25:26
Prioritizing people over profits and watching your business grow.
The Sheri Kaye Hoff Show for Living Joyfully in your Biz and Life. Create More Freedom, Happiness, and Success. Sheri is a business coach, consultant, mindset mastery expert, and personal development, expert. She is a best-selling author of transformational books and a near-death survivor. She is a noted radio show guest, keynote speaker, and workshop leader. Sheri uses a coaching approach that is action-oriented, intuitive, inspiring, and energy-boosting. She lives in beautiful Colorado and is married (for over 25 years) with three children, three step-children, and four grandchildren. Sheri loves inspiring happiness, family dinners, dancing, football, golf, wine, the beach, and the mountains. You can also listen to the podcast by saying "Alexa, play the Sheri Kaye Hoff Show" This podcast is syndicated globally including your favorite podcast player and is available on youtube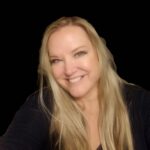 Sheri Kaye Hoff, is a Transformational Business Coach known for inspiring, intuition, vision, and massive action, and being a catalyst for personal and business growth, joy, and profits in a way that is fun, relaxing, and fulfilling. She uses both spiritual and practical techniques to obliterate blocks and create transformational change. Sheri is a business, leadership, happiness, and inner game expert. She has overcome nearly dying and has made it her life mission to share the keys to happiness and success. Learn More About Sheri
Recent Posts
Creative Marketing for a Happy Biz with Meg Fenn