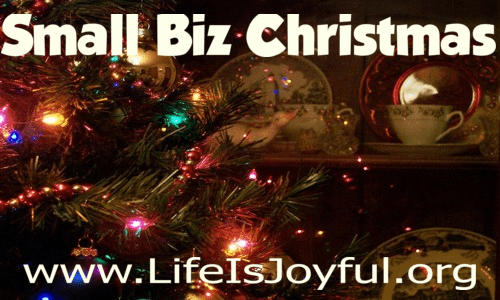 I am kicking off my Small Biz Christmas 2014 event today. Each day through Dec 11, I will be sharing small business growth tips, free gifts, and discounted offers.
The holidays can be an exciting time for small business and it can also be stressful. If you run a retail business, perhaps you are ramping up to increase your sales over last year's numbers. If you own a service business, such as coaching, you may wonder if you will even have much business over the holiday season.
When I started my company in 2007, many people told me that coaches typically take the month of December into the first week of January off because "coaches don't make money over the holidays". And I found that to be true, until I decided to challenge the belief. I made a decision that I would have great December months- no matter what. I started doing a 12 Days of Christmas event on my life coaching blog and my Decembers have rocked ever since. In fact, December has outperformed some other months. The key was that I made the decision to think differently.
If you are experiencing stress and worry around your business during the holidays, here is my top ten list to help you manage it:
1. Realize that worry is a habit. Like any habit it can be broken.
2. Create a list of 10 to 100 things that you can do instead of worry. (e.g. clean a closet or drawer, listen to music, write in a journal, go for a walk, read a favorite book, use inspirational cards, call a friend, go for a drive in a beautiful area, etc)
3. When you start worrying look at your list and pick something. The key is planning ahead.
4. Use a minute or so of pure positive thought. A few times during the day, pause and reflect on only positive things.
5. Create an appreciation list every day.
6. When you notice that you are over-thinking or doing circular thinking reach out to a coach, a mentor, or a friend.
7. Let go of being attached to the result. Imagine a tight fist releasing. You are in charge of action steps, but don't obsess about the outcomes.
8. Stay present focused with deep breaths.
9. Use guided meditations to relax.
10. Speak positive thoughts and affirmations.
Today's Small Biz Christmas gift is my list of 5 tools to help grow and build relationships with your customers/clients.
Sheri Kaye Hoff
Coach, Trainer, and Author, Sheri Kaye Hoff, is a Business Coach known for inspiring massive action and a catalyst for personal and business growth, joy, and profits in a way that is fun, relaxing, and fulfilling, Sheri inspires people to do the work they love and make more money. Sheri helps business owners and professionals to relax into success. She uses both spiritual and practical techniques to obliterate blocks and create dramatic change. She is a business, leadership, happiness, and inner game expert. She has overcome nearly dying, and the loss of her brother at an early age. She has made it her life mission to discover the keys to happiness and success and then share them with her clients and community. Learn More About Sheri
Kick off for Small Biz Christmas 2014